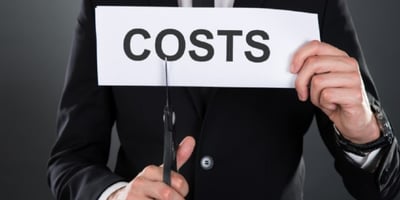 Cost management has always been an aspiration of the U.S. healthcare system, and COVID-19 has had an immediate, and lasting financial impact to providers. While the true scope and depth of COVID's impact is still unknown, the need to cut costs is evident. Providers are considering reductions of 10%, 15%, and even 25%. Financial leaders must consider how to endure the remainder of 2020 while charting their uncertain financial course for 2021. One thing is certain, RCM leaders will face intense cost cutting pressures and "making the cut" will be critical for success. RCM leaders need to manage their near-term costs against their long-term costs, or plainly stated – budget in survival mode.
Labor Costs
In hospitals, labor costs account for 50%-60% (54.9% -2018 average). Whereas, for an RCM leader, labor is anywhere from 60%-80% of their cost. It's no surprise to materially move the RCM cost needle, labor reductions will be needed; the challenge is how to manage a staff reduction and which positions will be lost/eliminated.
The most favored strategies for labor reduction are attrition and early retirement. Attrition takes time to realize and early retirement often includes one-time costs. An across-the-board salary/benefit cut is an expeditious option to meet cost reduction objectives but can erode morale and increase employee stress. Likewise, a reduction-in-force (RIF) while also efficient, can not only have moral consequences, but also lead to community ill will for the provider. In addition, some states have public reporting requirements, based on the size of an organization's RIF, which can lead to added negativity.
The question of which positions to eliminate should be deliberately considered. In general, the RCM leader has 2 groups of employees – front-end and back-end. The front-end positions are those preceding the generation of the claim (schedulers; insurance/authorization verifiers; registrars; and in some cases, coders). The backend would be activities post claim generation (billers; cash posters; collectors; customer service; and credit balances). Leveraging the concepts of lean production, the first area for reduction consideration should be the back end, as a quality registration mitigates the need for exception management and results in less back-end work required. Focus should be given to the collectors and customer service roles, as both can be outsourced, and credit balance personnel as refunding compliance is required only for governmental payers.
Caution should be taken in the when considering front-end reductions. While these roles are the most variable in labor costs, their quality of effort drives the bulk of providers' cash, and they are often one of the first faces the patient sees. Being understaffed, or having disgruntled patient facing staff, can lead an organization into a downward spiral.
Outside Fees
With all the vendor solutions available in revenue cycle, RCM leaders often have a list of vendors they manage. In fact, some RCM operations have staff dedicated solely to the management of these vendors. The RCM leader needs to take a fresh look and scrutinize all vended solutions as if it were being considered for the first time. Calculate ROI for each service/vendor and then rank them by level of need and amount of return versus cost. Once completed, reconsider which vendors are bringing the most to the table and whether any of services are critical at this time. This is also a great opportunity to attempt renegotiation of the service contract/fee structure but be sure not to shift more work back in-house, which will increase labor costs.
A Novel Idea
A quick way to reduce costs, while maintaining cashflows, is through Capio's PatientComplete® Forward Flow* funding program. In this program a provider replaces their collection agency (primary or secondary) with a monthly or quarterly sale of the accounts to Capio. Capio's purchase price is typically set at the net (collections minus collection fees) for the provider and respective agency. Under this approach, the provider continues to receive the net cash it needs and eliminates agency fee cost associated with collections. Further, cash from the purchase is immediate and predictable (not subject to the collection agency's liquidation curve).
Cost reduction has been relevant in healthcare since CMS created DRGs, but due to COVID it is no longer just a "good thing to do", it is a requirement to stay in business. Healthcare providers are going to have to take a very hard look at their service offerings, investment strategies, and long-term growth plans. The RCM leader will be expected to lead the way for the organization by displaying clear-eyed business acumen. Some will view this time as an impossible challenge, others as a great opportunity to reset and re-evaluate long held beliefs and processes. Those that take the later with not only survive COVID but will be positioned to thrive and achieve long term success.
View and comment on the original LinkedIn article HERE.